Police officer to row across the Atlantic in record bid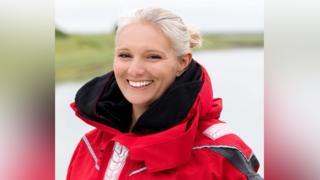 A police officer hopes to set a world record by becoming the fastest woman to row solo across the Atlantic Ocean.
Dawn Wood will be rowing 3,000 miles to raise awareness about plastic pollution and help marine conservation charities.
PC Wood, who has been a skipper on the Essex Police Marine Unit for 16 years, hopes to complete the challenge in January in less than 49 days.
The 42-year-old said she had been called "crazy, brave and inspirational" for doing it.
PC Wood, who is also a yachtmaster, will leave the Canary Islands for Barbados in a solar-powered ocean rowing boat on 4 January 2019.
She plans to use "lady power" to row for 10 hours a day and will be posting regular Facebook updates.
As well as raising £25,000 for the Marine Conservation Society, the officer, from Burnham-on-Crouch, hopes to help scientists by testing the water for micro-plastics.
She said: "This expedition is going to be just me and my oars, but it's not just about rowing. I'll need to be an engineer, an electrician, a rower, a housewife and a doctor too."
PC Wood will be battling sunburn, seasickness and sharks to complete the Transatlantic crossing, which has been described as one of the toughest challenges on earth.
But the officer, who received a video message from adventurer Ben Fogle wishing her luck, is not too worried about the shark aspect of her trip.
"I have got shark repellent, which you attach around your ankle and it sends out an electrical signal," she said. "It works in the River Crouch so I can't see there being a problem with that at all.
"Just getting across will be an amazing achievement but if I can achieve the world record, that would be great."
If all goes well, PC Wood will become the seventh woman in the world to have completed the rowing challenge. London rower Kiko Matthews set the current world record in March.