Tina Cantello: Man found guilty of debt collector murder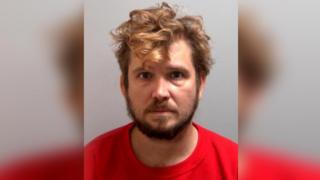 A man who stabbed a debt collector 30 times after she visited him to collect some money has been found guilty of murder.
Geoffrey Hutton, 38, murdered Tina Cantello at his home in Langdon Hills, Essex, in June. Her partially-clothed body was found upstairs in a bedroom.
After a two-week trial at Snaresbrook Crown Court, jurors took two hours to convict Hutton of killing the 49-year-old mother-of-four.
He will be sentenced on Wednesday.
The court heard how Ms Cantello, who worked for Provident Financial, visited Hutton at his home in Derby Close at about 17:30 BST on 8 June.
She was reported missing by her family after she failed to return home.
Almost 24 hours later, police were called to the scene after a neighbour recognised Ms Cantello's car from the missing person's appeal.
Hutton, who is deaf, emerged from the house covered in blood and officers went on to find the debt collector's "largely naked" body in a bedroom. She had suffered 30 stab wounds and 17 further injuries.
During the trial, Hutton claimed an unknown intruder had carried out the killing but jurors heard his DNA was found on the body and murder weapon.
They were also told he had bought drugs and went online to search for porn soon after the debt collector was killed.
In a statement, Ms Cantello's family said they would "refuse to allow Hutton's violent, vile and depraved actions to become her defining moment".
They said Hutton had "deliberately sought to exploit his hearing impairment to deceive the court" and "piled insult onto injury" by refusing to take responsibility for his actions.
Branding him "callous and calculated", the statement added: "No punishment would be commensurate with Hutton's grievous actions. His flagrant lack of remorse and atonement means he will never find forgiveness."