Michael Barrymore: Police argue for nominal payout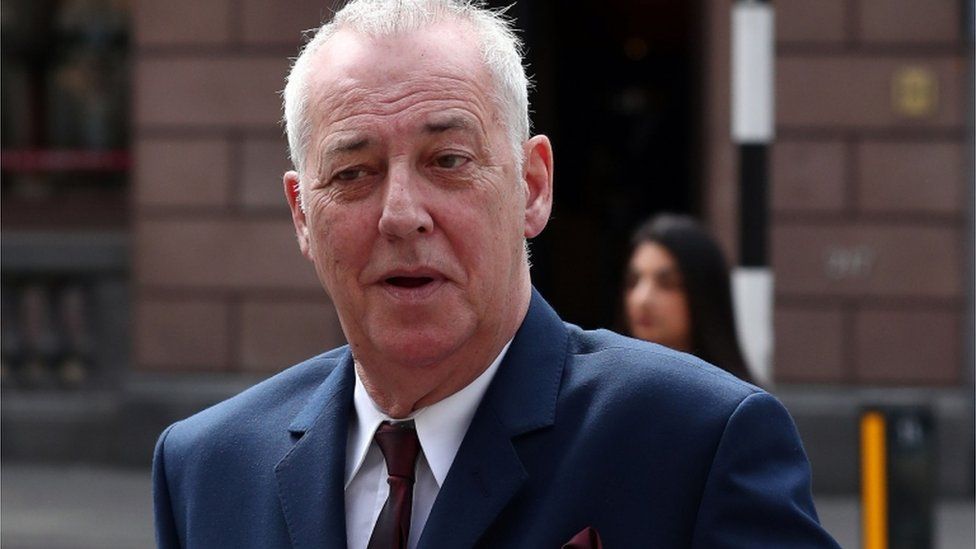 Entertainer Michael Barrymore should receive "nominal" damages over the wrongful arrest he claims destroyed his career, judges have been told.
The TV presenter is claiming more than £2.4m from Essex Police, which is challenging the ruling at the Court of Appeal in London.
Mr Barrymore launched the action after he was arrested and detained in June 2007 over the murder of Stuart Lubbock.
A 2017 ruling said he should be paid "more than nominal damages".
Mr Lubbock, 31, was found dead in the swimming pool at the comedian's home in Roydon, Essex, in 2001.
Mr Barrymore was arrested alongside two other men on suspicion of the rape and murder of Mr Lubbock but no charges were ever brought.
Last year the High Court ruled Mr Barrymore, whose real name is Michael Parker, should "recover more than nominal damages" for wrongful arrest and false imprisonment.
The force has said if Mr Barrymore is entitled to substantial damages it could have wide-reaching implications for the police service from wealthy or famous individuals.
Lord Edward Faulks QC, acting on behalf of the Chief Constable of Essex, said the arrest was "wrongful" but the subsequent imprisonment was justified and in the public interest as part of a "painstaking inquiry".
He said: "It was unfortunate the case was never satisfactory and the truth has never emerged."
Essex Police said the arrest was unlawful as the arresting officer did not have grounds to suspect Barrymore but that a different officer could have detained him lawfully.
Hugh Tomlinson QC, for Mr Barrymore, had told the High Court judge his client was never charged with any offence and the Crown Prosecution Service (CPS) later made it "crystal clear" that there was no basis for any charges.
In a written argument before the Court of Appeal, Mr Tomlinson submits that the appeal should be dismissed.
Related Internet Links
The BBC is not responsible for the content of external sites.