Missing Sandra Gant: Family 'have to accept she died'
By Phil Shepka
BBC News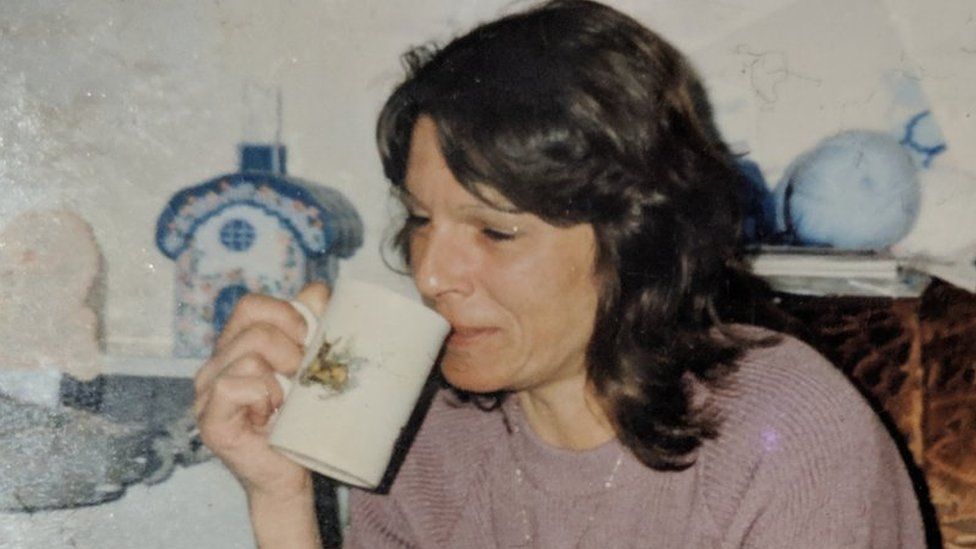 The family of a mother-of-four who vanished 15 years ago said they have to accept she has died - despite no body ever being found.
Sandra Gant was 48 when she was last seen leaving an address in Hayes Road, Clacton, Essex, on 15 November 2003.
Four people were arrested on suspicion of murder but no-one has been charged in connection with her disappearance.
Her daughter, Carrie Mead, said she had "to make my mind believe that she died, like people do".
She said her mum's life had gone "downhill" following her 1994 divorce and she had had alcohol problems.
Mrs Mead, 40, who still lives in Essex, said she would see her mother at least once a week in a "kind of supporting role... rather than just a daughter".
Ms Gant was last seen by her family the day before she disappeared, after she and two friends went for a drink at a house with a man they had just met.
Her youngest daughter Lauren Redpath, said: "I don't believe that my mum would be on this Earth and be away from us for even a week, let alone years.
"We never didn't know where she was. She was just that type of person who kept us informed of where she was living because with her lifestyle with being a drinker she knew we worried about her."
Ms Gant was reported missing on 21 November by Mrs Mead, who had gone to see her at her home.
Mrs Mead, a full-time carer, said: "I know my mum is not here. I have to put in my mind she has passed away. I have to make my mind believe that she died, like people do. You kind of think about all the ins and outs of it, and she didn't die like everybody else dies.
"Even though my mum might have had a difficult life towards the end it doesn't mean she was less of a mum and doesn't mean we love her any less."
She added she feels the Essex Police officers involved "did all they could" to get the answers for the family.
Ms Gant had three grandchildren at the time of her disappearance, but six more have since been born.
Mrs Redpath, who lives in Colchester, said they tell the youngsters "that nanny Sandra is missing and that we can't find her" but the older grandchildren know more about the circumstances.
She added the family "desperately need to have some kind of closure and finally put it to rest".
"The worst thing about it is there's never been a body found," she said.
"She could be lying anywhere - we don't have a resting place to go to, we don't have a place to go to to get that comfort."
In a statement, Essex Police said they were still investigating, adding that they "take all opportunities" to "provide closure for those families concerned" in cases like the disappearance of Ms Gant.
Anyone with information is asked to contact the force's cold case team on 101, or Crimestoppers anonymously on 0800 555 111.
Related Internet Links
The BBC is not responsible for the content of external sites.