Colchester gallery shows how suffragist statue created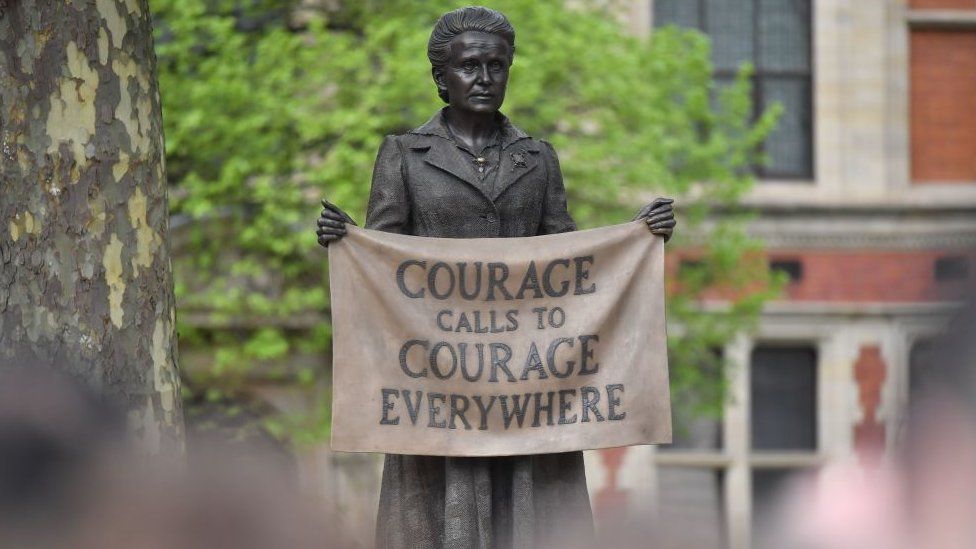 An exhibition documenting the creation of the first statue of a woman in Parliament Square is to be held.
A bronze figure of suffragist Millicent Fawcett by Turner Prize-winning artist Gillian Wearing was unveiled outside the Houses of Parliament in April.
The exhibition revealing the process behind the sculpture is being held at Firstsite gallery in Colchester.
The suffragist movement favoured non-violent protest to secure votes for women, unlike the suffragettes.
The title of the exhibition, Courage Calls to Courage Everywhere, comes from Fawcett's response to the death of suffragette Emily Wilding Davison.
She was knocked down by the King's horse at the Epsom Derby in 1913.
To create the mould, Wearing worked with art fabricators who used measurements from photos to construct a three-dimensional image from a live female model, dressed in a tweed walking outfit.
This was 3D-printed and a likeness of Fawcett was sculpted.
The statue, which took 18 months to complete, also incorporates scaled-up casts of Gillian Wearing's own hands, holding the "Courage Calls to Courage Everywhere" banner.
A spokeswoman for Firstsite said the statue was a "fitting commemoration of an individual woman who achieved extraordinary change for the lives of women through dedicated public activism".
The statue was made possible following campaigning by feminist writer Caroline Criado Perez who aimed to begin to redress the imbalance of the sexes in Parliament Square.
The unveiling marked the centenary of the 1918 Representation of the People Act that gave some women over the age of 30 the vote.
The exhibition opens on Saturday and runs until 12 May.
Related Internet Links
The BBC is not responsible for the content of external sites.