Beavers return to Essex after 400 years to stop floods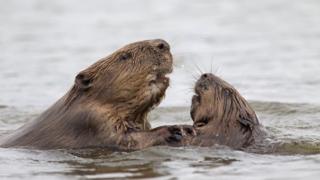 Beavers will be reintroduced to Essex more than 400 years after they were hunted to extinction.
A breeding pair of Eurasian beavers will be rehomed at Spains Hall Estate, near Finchingfield, Braintree, to help flood prevention.
The animals will have a four-hectare territory fenced off to keep them safe.
Beavers have not been seen in the county for four centuries but have been reintroduced in other parts of the country.
The Environment Agency hopes the dam-making mammals will increase biodiversity in the area as well as control the flow of water.
A second element of the project will involve man-made flood management measures.
The Environment Agency's Matt Butcher said: "The beavers bring another exciting dimension, as we can assess how effective they are at creating amazing new wetlands and as flood engineers."
Spains Hall owner Archie Ruggles-Brise said he was excited to welcome the beavers to the estate, home to his family for 250 years.
He said: "We have experienced first-hand the disruption caused by flooding in Finchingfield so we are excited to be able to contribute to this novel approach to reducing flood risk, an undeniable public good.
"The added attraction of being able to pit nature against man to see who 'does it better' will be a rare chance to learn and adapt our approach. "
Beavers were hunted to extinction for their fur, meat and scent glands in the beginning of the 16th century in England.