Bank worker jailed for stealing from family in 'Ponzi' fraud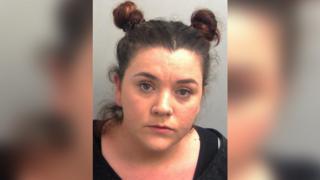 A bank worker who abused her position to steal £280,000 from family and friends in a 'Ponzi scheme' has been jailed for four and a half years.
Victoria Smith, 29, tricked victims into investing in fake foreign currency schemes by telling them she could offer preferential rates.
Smith, of Athol Close, Canvey, admitted 25 counts of fraud by false representation at Basildon Crown Court.
Det Ch Insp Lee Morton said Smith "abused her family and friends".
The court heard that between January 2015 and November 2016, Smith set up a Ponzi scheme where she used the cash from new investors to pay off the old ones so it looked like they were making a profit.
'Web of lies'
She was, in fact, using the £280,000 she took to fund her own lifestyle.
After Essex Police received a number of complaints, Smith handed herself in on 13 November 2016.
Mr Morton, of the Kent and Essex Serious Crime Directorate, said: "Her nearest and dearest trusted her word and experience in the banking industry, not knowing that they were actually being conned.
"It was only a matter of time until Smith's web of lies started to pile up and her employer and investors became suspicious."
Under the Proceeds of Crime Act, Smith will be ordered to repay the money.