Martin Dines murder: Car park worker 'thought body was rough sleeper'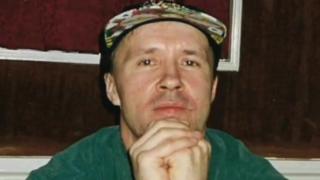 A car park worker who found a homeless man's body has told a court he thought the man was a rough sleeper and tried to wake him up.
Robbie Bennett discovered the body of Martin Dines at a Colchester car park in April, Ipswich Crown Court heard.
Mr Bennett told jurors when he uncovered the body he saw one of Mr Dines' eyes was swollen and there was blood on his hands and the wall.
Heidi Kennedy, Darren Miller, and Mark Hartley, deny murder.
Mr Miller has admitted manslaughter.
In a statement read to the jury, Mr Bennett said he had thought Mr Dines was a rough sleeper who was bedded down for the night and tried slamming doors to wake him up.
He said when he removed the blanket he saw there was blood coming from the man's ear, which was missing a lobe.
He found there was no pulse and called 999, the court heard.
The jury, which visited the car park on Wednesday, previously heard Mr Dines had suffered 73 separate injuries.
It is alleged he was subjected to "a prolonged and sustained assault" carried out by the three defendants during three separate attacks between 20:30 on 22 April and 01:45 the following day.
The trial continues.