Dedham ram-raid uncovers 'evil influences pot'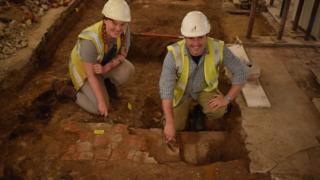 Ram-raiders who left a store empty-handed have inadvertently helped unearth archaeological discoveries dating from medieval and Tudor times.
The East of England Co-op in Dedham, Essex, was targeted in an early morning raid on 10 December which caused major structural damage to the building.
Archaeologists were then commissioned and a pot, which may have been used to stop "evil influences", was dug up.
A timber-framed structure, built during Henry VIII's reign, was also unearthed.
The precise nature of the structure has not been confirmed yet, but they have dated it to 1520.
Following the ram-raid, villagers pulled together to find the store a new home in time for Christmas - moving its contents to a barn in the village.
Among the finds was a medieval hearth, which researchers said pre-dated the surviving buildings, and remnants of an internal porch.
Buried close to one of the original entrances was a type of pot known as a two-handled tripod cauldron dating from the late 16th to early 18th Century which, according to Colchester Archaeological Trust, may be "an apotropaic deposit - one intended to prevent evil influences entering the house".
Nick Denny, joint chief executive for the East of England Co-op, said he was "delighted the findings have helped give a further insight into this historical and wonderful village".
Councillor Tim Young, from Colchester Borough Council, said the finds were "a very positive story about something great for the heritage of the borough, coming out of an apparent disaster".
No-one has been charged in connection with the ram-raid and Essex Police are still appealing for information.
A Toyota Hilux was used to smash into the building and was left at the scene as the suspects drove off in another vehicle.