Jewel-encrusted Ford Escort model to raise money for charity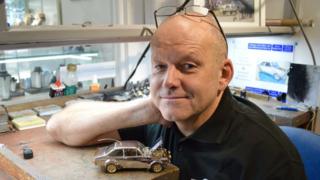 A jeweller with a lifelong love of cars has completed a miniature model of a Ford Escort from precious metals.
Russell Lord, from Shenfield, Essex, spent more than 1,500 hours working on the 6.5in (16.5cm) model, which has working steering and suspension.
About 70% of the vehicle is silver but other parts, including the wheels and spoiler, have been crafted from gold. It also features a number of diamonds.
The car, which cost £70,000 to make, will be auctioned for charity in 2019.
Mr Lord, whose first car was a MK1 Ford Escort, started work on the 1976 MK2 silver model 25 years ago.
He has since owned 55 Escorts - 56 if you include the pocket-sized version.
He was encouraged to finish the model, which has a grille logo reading Lord instead of Ford, by his son after he moved his business from London to Essex following the Hatton Garden safety deposit robbery.
Mr Lord said: "When we were putting all our stuff in the new safe, Bobby said, 'What's this, dad? Is it a car? You've got to finish that.' So he set me that challenge."
The model will also be displayed at the Lancaster Insurance Classic Motor Show at the NEC in Birmingham from 9 to 11 November.
Two children's charities will benefit from the sale of the miniature car - Warley-based SNAP (Special Needs and Parents) and The Maddi Foundation, which aims to find a cure for a rare form of Motor Neurone Disease.
It is hoped the auction will take place at the Goodwood Festival of Speed next July.