Ryanair racism: Mayor says victim has Barcelona's full support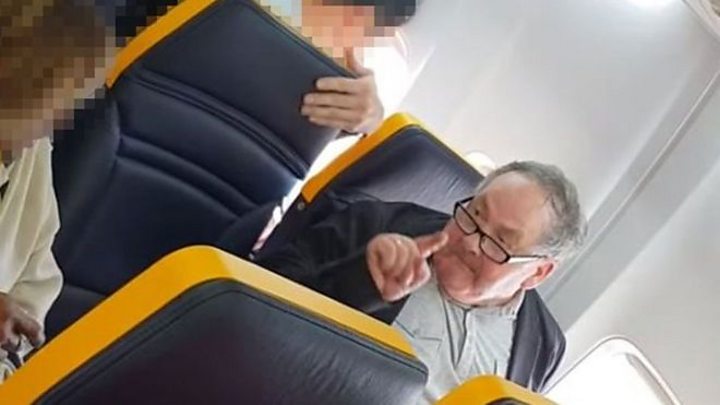 Barcelona's mayor has said the city will not take the racist abuse of a woman on a Ryanair flight "lying down".
Delsie Gayle, 77, was on a flight from Barcelona to Stansted when a man, named as David Mesher, began insulting her.
Ryanair has been criticised for its handling of the incident, with a petition calling for the airline to apologise and compensate Mrs Gayle gaining more than 230,000 signatures.
Mayor Ada Colau said Mrs Gayle had the Catalan capital's "full support".
Mr Mesher, believed to be in his 70s and from the Yardley Wood area of Birmingham, was filmed by fellow passenger David Lawrence.
Ms Colau thanked Mr Lawrence for bringing the incident to the public's attention.
In a statement on Facebook, she said: "Above all, we want to express our solidarity with the victim and our repudiation, not just of the racist, shameless, rude man that perpetrated this act of violence and hate, but also of the company for making the woman move seats, rather than the person guilty of the verbal attack, who deserved to be removed from the plane and taken straight to a police station. "
Officers from Essex Police are currently investigating the incident.
Ryanair said it has contacted Mrs Gayle's family but could not make further statements while an investigation was under way.
Ms Gayle said she felt "very low" about the incident and it had discouraged her from flying with the low-cost airline in future.
She told ITV News: "I feel really depressed about it. I go to bed and say, 'What have I done?'.
"I haven't done anything to attack him, it's because of the colour of my skin I was abused like that."
The row erupted on Ryanair flight FR015 at Barcelona Airport on Friday before it left for London Stansted.
Essex Police said it was investigating and would pass on information to the Spanish authorities in due course, in line with national protocols.
Mr Mesher lives in sheltered retirement accommodation and has refused to speak to reporters outside his home.
Police officers visited the housing unit where he lives on Wednesday.
His housing provider Optivo said: "We do not condone abusive behaviour in any form.
"As this matter is now being handled by the police we are unable to make any further comment at this stage."