Ryanair replaces Stansted baggage handlers after delays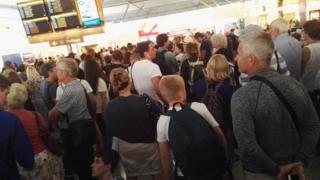 A baggage handling company criticised after passengers had to wait hours to reclaim their luggage has been replaced at London Stansted Airport.
Ryanair announced on Monday OmniServ would takeover from Swissport "following an extensive tendering process".
Stansted Airport had to apologise for "ridiculous" delays involving Ryanair flights on weekends this summer.
Swissport said it was "disappointed" not to continue serving the airline.
In its announcement, Ryanair said OmniServ would provide all of its check-in, baggage and ground operations handling at Stansted from February.
"Ryanair's new decision to invest more resource in the ground handling operation at Stansted affirms the arguments we have long been making about the unique challenges of this contract and the need for further investment by the airline," a Swissport spokesperson said.
"Both Swissport and Ryanair recognized the need to review operations at the airport in light of unprecedented challenges over the summer brought about through significant UK Air Traffic Control delays and weather disruptions," added the spokesperson.
Ryanair said Swissport staff at Stansted would be offered contracts with OmniServ, operating as Blue Handling.
Although Swissport would no longer be handling Ryanair's operations at Stansted, it would continue to do so for the airline at more than 40 other airports across the UK and Europe including Manchester and Luton.
Ryanair's director of operations, Adrian Dunne, said: "We look forward to working with both OmniServ and Stansted Airport to improve the customer experience and punctuality at Stansted for the 21m Ryanair customers who will travel through the airport this year."
London Stansted's chief executive officer, Ken O'Toole welcomed Ryanair's decision and was "confident it would deliver a real step change in the customer experience for passengers".