Chelmsford prison: Suicide failures at jail 'dismally regular'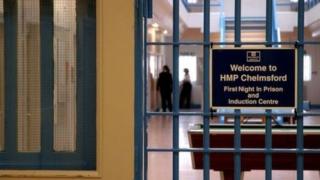 A prison with one of the highest rates of suicide makes "the same systemic failings with dismal regularity", the director of a charity has said.
HMP Chelmsford has had at least seven suicides since the start of 2016, with the most recent being on 16 September, according to INQUEST.
Deborah Coles, from the charity, said the deaths highlighted problems in self-harm and mental health awareness.
A Prison Service spokeswoman said it gave staff "specialist training".
Last week, HM Chief Inspector of Prisons, Peter Clarke, said he had seriously considered invoking the Urgent Notification protocol at the Essex prison, requiring the Justice Secretary to step in.
His inspection highlighted an increase in violence, suicides, availability of drugs and unacceptable living conditions.
There have been 17 suicides at the jail since 2010 - the fifth most across the entire prison estate.
Ms Coles called the prison "incredibly unsafe" and said the rate of suicides "suggests that the plethora of recommendations following previous self-inflicted deaths have not been implemented".
She continued: "Inquests repeatedly identify the same systemic failings with dismal regularity.
"Recent inquests into deaths at Chelmsford prison have highlighted failures around the management of self-harm procedures, a lack of staff training in mental health awareness, inadequate risk assessments and failures in responding to bullying.
"The failure to implement existing guidelines on the care of those at risk indicates a lack of care, neglect and inhuman treatment from punitive and often inflexible prison regimes."
Ms Coles called for the creation of a national group to oversee the implementation of lessons from inquests and reports, accountable to Parliament.
A Prison Service spokeswoman said: "One self-inflicted death is one too many which is why we have provided specialist training for staff at Chelmsford prison to help them identify, monitor and support vulnerable offenders.
"We've also recruited an extra 60 prison officers in the last year giving staff more time to provide dedicated support to every prisoner."