Chelmsford pool to be used as car park after asbestos closure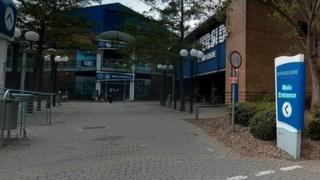 An asbestos-contaminated swimming pool is set to be filled in and used as a car park for at least three years.
Chelmsford City Council has said filling in the pool will cost £200,000.
The outdoor pool at Riverside Ice and Leisure was shut in October 2014.
Instead the council is proposing to extend the use of the land as a car park big enough for 70 spaces - potentially earning the it almost £500,000 a year.
The council said putting the pool back into use would be expensive and there had been low usage in recent years.
A council report in 2015 said: "The proposed new Riverside scheme will exacerbate any shortage of car parking in the vicinity.
"The car park has been designed to be a pleasant place to be with good vision across the area."
A council spokeswoman said surveyors had decided the pool "could not be reopened without risk to the public or staff".
"Since then, the entire leisure centre has begun to be extensively redeveloped," she said.