The London: Historic warship's secrets go on display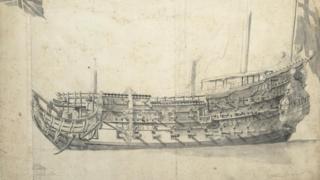 The secrets of a warship that has spent 350 years at the bottom of the sea will be revealed in an exhibition close to its final resting place.
Finds from the 17th Century wreck of The London include a brass cannon stolen from the Dutch and shoe with a sailor's footprint still visible.
These will go on display at Southend Central Museum, a few miles from where the vessel exploded in 1665.
But mystery still surrounds how it met its fate.
The London was a second-rate ship of the line, carrying some 70 guns and more than 300 crew.
But, on its way to fight in the second Anglo-Dutch War, the ship exploded while moored at The Nore in the Thames Estuary.
'Very sad story'
The cause of the accident, which claimed 300 lives, has never been established but the disaster featured in the writings of Samuel Pepys.
It was a tragedy made all the worse as many women and children, families of the sailors, were on board at the time.
Southend Museum Service assistant curator Ellie Broad said: "Some experts think it might have been due to the gunpowder storage or during a gun salute that the explosion started.
"The London was at Southend for the men to say goodbye to their wives and families so some of them were on board. It is a very sad story."
The 123ft (37m) warship was a veteran of the first Anglo-Dutch War where it had seen action, and likely where it had plundered the cannon featured in the exhibition, which opens on 22 September.
It also acted as transport for the future James II in the fleet returning his brother Charles II to England from exile in Holland.
The exhibits
Among items recovered from the London are a leather shoe an intact sundial and a brass cannon, purloined from the Dutch.
Miss Broad said: "People used to nick each other's cannons; because it cost so much to cast a brass cannon, they were very valuable.
"The cannon was originally manufactured in 1616. It was probably made for a Dutch warship but some people think it could have been mounted on the walls of Amsterdam."
After the wreck's rediscovery by divers, Historic England funded a project that has seen volunteers and professionals excavate and conserve the historic find.
Miss Broad said it was important for locals to be able to see the exhibits.
"People have been following the story since the shipwreck was rediscovered and a lot of people got involved in the volunteer project and have followed the progress since," she said.
"It is really nice for Southend Museum to have finds of national importance."
Items from the London will also feature at the National Maritime Museum in Greenwich in its Tudor and Stuart Seafarers gallery which will be opening on Thursday.
You may also be interested in: