Pilot safely landed Ryanair plane that was missing wheel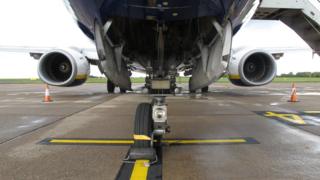 A Ryanair pilot made an emergency landing of a plane that had one wheel missing after it fell off during take-off, an investigation has found.
The Boeing 737 from Stansted had 184 passengers on board and was bound for Copenhagen when one of its nose wheels came off.
An Air Accident Investigations Board (AAIB) review found Ryanair overruled a decision to land at Stansted.
The plane successfully touched down at East Midlands Airport.
The budget airline said the report "makes no safety recommendations of Ryanair".
Investigators said the decision not to land at Stansted "was based on a desire to avoid closing the busy runway...and the associated safety and operational implications this would have caused".
The AAIB found a cracked gear axle had caused the incident last September.
Billericay man Michael Wynne, who was on the flight, told investigators he had heard a "loud clunk" before the plane even took off.
"It sounded like something had broken mechanically. The stewardess and I gave each other a double take and alarmed glance," he said.
The official report into the accident states: "The crew decided their best option was to return to Stansted, a decision agreed when they contacted the company's engineering base at the airport by radio.
"Having prepared the aircraft for the approach, the crew was cleared by ATC to descend.
"Shortly afterwards ATC contacted the crew to inform them that the aircraft operator had requested that the aircraft now divert to either East Midlands or Prestwick, rather than Stansted."
All airports are obliged to allow planes in emergencies to land.