Mrs Hinch: Instagram cleaner wants to make chores fun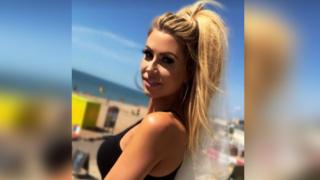 A woman whose Instagram cleaning videos attracted more than 300,000 followers says she wants to make chores fun.
Sophie Hinchliffe - known as "Mrs Hinch" - has been "overwhelmed" by the success of her quirky "stories".
Since she joined the site in March, thousands of people have become members of the "Hinch Army", even helping get the account back online after it was hacked.
The 28-year-old, from Maldon, Essex, has now upped her online security.
Mrs Hinchliffe said her "stomach was in a knot" when she couldn't get in to her @MrsHinchHome_X_ Instagram profile on Wednesday, but her fans pulled together to sort it out "within hours".
She added: "I had so many shares and tweets about it - the Army just pulled together.
"I had messages saying that if I had to close my account, they would follow me wherever I went. It made my heart melt."
Mrs Hinchliffe, who cleans for at least 30 minutes a day, has dubbed her cleaning cupboard "Narnia" and names her favourite cleaning products.
You may also like:
These include "Minkeh" - a washing up pad - and "Dave the Duster". She has also coined a new term for cleaning - "Hinching".
The hairdresser said: "This all came out of me having fun with cleaning.
"It sounds cheesy but it's something everyone has to do so you might as well enjoy it.
"Cleaning helps me relax and I've had so many amazing messages from people saying I've changed their life or helped them with their mental health.
"It's physically impossible for me to reply to everyone but the messages means so much.
"Without the Hinch Army, I wouldn't be where I am. They're part of my journey."