Essex Police CSI found guilty of sexual assault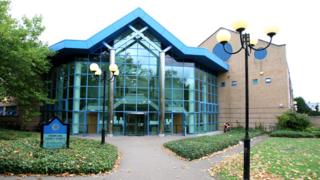 A forensic investigator with a "tattoo fetish" has been found guilty of sexually assaulting two women.
Kevin Dowley, 62, of Stanford-le-Hope, put his hand down one woman's dungarees while investigating a house burglary.
He also made a second woman take her top off and pulled down her leggings when taking pictures of her injuries at Grays Police Station.
Dowley, who denied the charges, was found guilty at Basildon Crown Court. He will be sentenced on 19 November.
The trial heard Dowley, who had worked as a Metropolitan Police officer for 30 years before joining Essex Police as a civilian, targeted vulnerable women.
One victim, who was eight months pregnant in August 2016 when the attack occurred, told the court he said she "look[ed] very vulnerable" as he attempted to kiss her.
Prosecutor Emma Nash said: "This is a pattern of behaviour by Mr Dowley for his own sexual gratification."
Ms Nash had earlier told the court that Dowley had a "tattoo fetish".
Holding her child
His first victim was a recovering heroin addict who was on a methadone programme and both women had mental health issues.
Dowley, of Burgess Avenue, was described as a man of "impeccable character" by defence counsel Paul Evans.
Two more women who made complaints about the crime scene investigator also told the court of their experiences.
One told the jury she feared Dowley would have groped her had she not been holding her child when he attended an incident at her home in 2014.
"If it wasn't for my daughter that day, I think he would have sexually assaulted me," she said.