Snapchat penis photo special constable sacked by Essex Police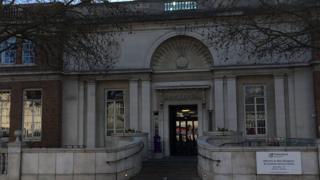 A volunteer police officer who sent to a female colleague a photograph of his penis has been sacked.
Special constable James Parker admitted sending the message via Snapchat while at Colchester Police Station in October or November, a misconduct panel heard.
He also admitted sending flirtatious messages and said he wanted her to perform a sex act during a briefing.
On Tuesday, the Essex Police panel found Mr Parker's actions amounted to gross misconduct and he was dismissed.
Mr Parker was in police uniform when he zoomed in on his genitalia for the picture and the panel heard how he later sent his colleague a message asking what she thought of it.
The female constable told the hearing, at Chelmsford Civic Centre, that she had responded to Mr Parker's messages over several weeks but believed the image of his penis had "crossed the line" from "flirty banter".
Ch Supt Paul Wells, the senior police officer on the panel, said: "Special constable Parker's behaviour was not acceptable and amounted to gross misconduct.
"His actions clearly breached our code of ethics and I hope that this dismissal will act as reassurance to officers and staff across the force that these behaviours and breaches of the code are taken seriously."