Chelmsford prefabs 'due to be ready a year ago'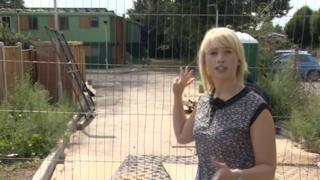 Low-cost homes for vulnerable families in Chelmsford are still empty a year after residents were due to move in.
Work on the 18 prefab units began last spring with the aim of providing short-term accommodation for people on the housing list.
The "eco-modular homes" can be assembled in a factory in just eight weeks and installed in half a day.
Chelmsford City Council blamed "difficulties" connecting utilities for the delay.
The Conservative-led council said the units, which were erected on two sites at Beeches Road and Fox Crescent, would be ready by September 2017.
But the BBC understands many tenants have been waiting for more than a year to move in.
Lib Dem councillor Jude Deakin told how there were more than 300 families on the housing list in the area.
"It's not good enough," she said. "In the time it has taken to get these properties to this stage, we could have used land - had the council not sold it off - to build housing for those 300 families and they could have been in there by now."
Rob Saggs from the Chelmsford Night Shelter said his organisation was operating at full capacity and said the need for more housing was "epidemic across the country".
The houses - which measure 4m by 8m (13ft by 26ft) - were seen as a cost-effective solution to housing problems when they were unveiled in February 2017.
In November, Paul Hutchinson, Chelmsford City Council's Cabinet Member for Strategic Housing, said the units were "at the point of installation".
But the council said this week there had been "difficulties" installing utilities, in particular connecting to the mains water supply.
In a statement, it said: "As with all new projects, there are always going to be issues causing delays."