Grays launderette trial: Burglars 'pointed gun at child'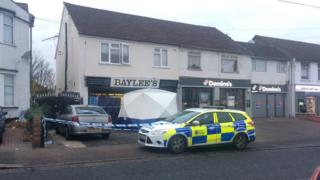 Masked burglars pointed a gun at the daughter of a launderette owner as they demanded money from her, a court heard.
A gang armed with axes and hammers broke into the flat above Baylee's launderette in Grays on 4 December 2017, Basildon Crown Court was told.
Michael Williams, 36, of Milton Keynes, and Christopher Salvador, 31, of Watford, deny aggravated burglary and possessing an imitation firearm.
Prosecutors allege the pair played supporting roles in the raid.
Claire Carter told the court she and her partner Daniel Wood, who runs the business alongside her, were at home with two of their children, aged 13 and four, when she heard a noise.
"Then I heard, 'Armed police, armed police, get on the floor'," she told the trial.
Ms Carter said she went downstairs to the first-floor lounge and saw her partner flat on the floor with two men on him.
"I thought it was the police until I saw the axes," she said. "I ran straight over to the kids. I put my dressing gown straight over the kids."
After being pushed into a bedroom Ms Carter said she heard a lot of banging and Mr Wood screaming.
Of her children she said: "They were just eyes bolt open, sweat pouring off of them, shaking. One of them screamed out, 'Please don't hurt my dad'."
Ms Carter said one of the men pointed a firearm, which prosecutors said turned out to be an imitation, at her head and asked "where's the money" before turning the gun towards her daughter and starting to countdown.
One of the intruders, later identified as Paul Robertson, 39, was found dead at the bottom of the stairs.
Jurors were earlier told three other men have admitted their roles in the burglary.
The trial continues.