Chelmsford MP backs horse society's road safety campaign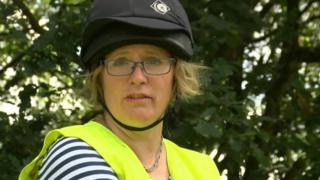 An MP has backed a campaign calling for motorists to overtake horses more safely after she rode out and found the experience "really scary".
Chelmsford MP Vicky Ford, a keen rider, was out on rural roads in Essex in support of the British Horse Society's "Dead? Or Dead Slow?" campaign.
Figures show a 50% rise in horse-related accidents in Essex, Suffolk and Norfolk in the year to February 2018.
Drivers are asked to slow down and allow more room when passing animals.
The society said it is becoming "more and more dangerous" to use rural roads as there were 30 horse-related accidents in the year to February compared to 19 the previous year.
Ms Ford, a Conservative, said: "You're trying to cope with kids on the pavement, buses pulling in and other obstacles - and when one driver cuts it too fine, it's really scary."
Walter Brinzer, of Chelmsford Equestrian Centre, said: "It's really important drivers kill their speed.
"Passing wide is fantastic but really, you want to be at a maximum speed of 15mph [24km/h]."
Sarah Phillips, chief operating officer at the British Horse Society, said: "A lot of horse riders now choose not to ride on the road, but some of them have no choice."