Colchester shopkeeper 'told off' over thief poster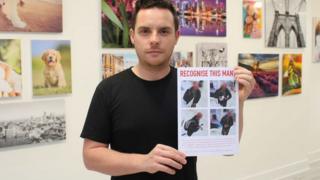 A shopkeeper says he was told off by police after making posters showing photos of a suspected thief.
James Callaghan gave out posters around Colchester asking "recognise this man?" after the theft of a tablet from his shop, Blue Sky Printing.
He said Essex Police told him the posters breached data protection laws and should not have been displayed.
The force said only police had the authority to investigate, solve and prosecute those responsible for crime.
'A bit shocked'
Mr Callaghan said the man was filmed stealing the tablet on 9 August by CCTV cameras in his shop.
He then produced posters showing the man and distributed them to shopkeepers, reported the matter to police, and posted about it on Facebook.
"[The thief] picked up the tablet and shoved it into his jacket and did not realise he was facing a CCTV camera," said Mr Callaghan.
"I wanted people to know what happened."
A nearby pawnbroker, who was given a poster, returned the tablet after the alleged offender tried to sell it to him.
But Mr Callaghan said he was visited by police community support officers who said they were concerned about the posters.
"Police spoke to my staff saying it was a breach of the Data Protection Act. I was a bit shocked," he added.
The BBC understands the images would not have breached data protection rules as they were owned by Mr Callaghan.
An Essex Police spokesman said: "We understand that business owners may wish to pursue their own investigation, especially where their livelihood is affected, but would like to make it clear that only the police have the authority to fully investigate, solve, and prosecute those responsible for crime."