Jet2 plane divert row couple cleared of endangering aircraft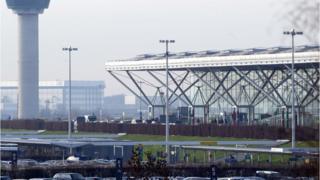 A couple whose "foul-mouthed" row led to a plane being diverted have been found not guilty of endangering an aircraft.
Pauline Gordon, 66, and Ronald St Ville, 53, were travelling from Stansted to Las Palmas, Gran Canaria, in July 2017 when the dispute erupted.
The pair were separated on the Jet2 flight before it landed in Portugal.
A jury found the couple, who later continued with their holiday, not guilty at Chelmsford Crown Court.
The court heard the couple began arguing after Mr St Ville refused to tell his partner who he had been texting.
Ms Gordon, who paid for the all inclusive holiday as a birthday treat, said she had been annoyed when she found out Mr St Ville was texting another woman whom she had thought was just a friend.
She said: "He told me she had his passport and when he went to collect it she said, 'Why are you going on holiday with your other woman?' which I thought was funny."
After the row Mr St Ville asked for money to buy a drink from Ms Gordon and when she said no, he snatched her handbag.
Ms Gordon denied there had been any physical violence.
Mr St Ville had told the court their actions had not required the plane to be stopped.
The court heard the pair, of Stewart Road, Stratford, had been asked for compensation by Jet2 for costs caused by the diversion.