Stansted Airport sorry over 'ridiculous' baggage delays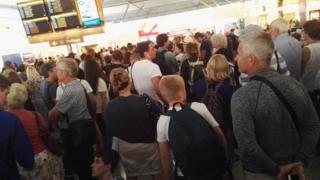 Stansted Airport has apologised after Ryanair passengers on delayed flights waited hours for their baggage over the weekend.
Following the disruption between Friday and Monday, Ryanair has drafted in extra baggage handling staff.
The airline, responsible for employing baggage handlers Swissport, said air traffic control delays and bad weather had impacted flights.
Swissport has also apologised to passengers for the delays.
Stansted's chief operating officer Brad Miller said: "It is up to us collectively to find out how we get to the root cause and look at what is the best way we can mitigate it."
BBC Radio 1 presenter Danny Howard posted a video of an empty baggage belt at the Essex airport on Friday evening, having performed in Croatia the previous night.
Actress Kimberley Capero said she waited for five hours after her flight back from Venice and called the delay "ridiculous", claiming there was no explanation or apology.
Passenger Tony Mildinhall and his wife Dawn said it took two hours and 40 minutes for their bags to arrive after a replacement flight from the Czech Republic was 90 minutes late.
A Ryanair spokesman said: "Some flights are arriving much later than planned - especially at night - which has stretched available resources beyond normal shift timings."
Swissport added the disruption coincided with one of the UK's busiest weekends for travel and said it was "doing everything we can to respond to the impact of the adverse condition".
Additional staff have been brought in to respond to the large numbers of delayed aircraft landing off-schedule, it said.