Stansted expansion: High Court action over airport plans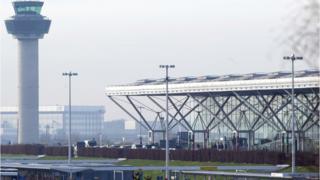 Campaigners are challenging the Transport Secretary in the High Court over plans to expand Stansted Airport.
Stop Stansted Expansion (SSE) has applied for judicial review of the decision to allow Uttlesford District Council to rule on plans to increase the airport's capacity.
The scheme would increase passenger limits from 35 million to 43 million.
The Department for Transport (DfT) said it had responded to SSE and would not comment further on legal proceedings.
The campaign group wants the planning decision referred to an inspector as it argues the proposal is a nationally significant infrastructure project.
Secretary of State for Transport Chris Grayling had ruled the decision would be made by the local planning authority.
SSE said if successful the project would mean a 44% increase in flights and 66% increase in passengers compared to 2017 levels.
Group chairman Peter Sanders said: "SSE's primary objective is to seek to safeguard the local community and local environment from unfettered and unsustainable airport expansion.
"Regrettably, legal proceedings are sometimes an unavoidable part of trying to achieve this objective but we must try to ensure a fair and thorough process for dealing with this planning application."
A DfT spokeswoman said: "The government is supportive of airports making best use of their existing runways as long as they address economic, environmental and other relevant planning issues.
"We expect airports to work closely with communities and for approval to be determined by the appropriate planning authority."
An Uttlesford District Council spokesman said the council had "taken a great deal of care" ensuring the application was considered properly and had extended the public consultation period.
A spokesman for Manchester Airports Group, which owns Stansted, said it supported the decision being determined locally.
He said: "Based on the feedback we received, we've committed to making best use of existing capacity within previously agreed limits on aircraft noise and flight numbers and within the airport's current boundary."