Man rescued after jumping off ferry near Harwich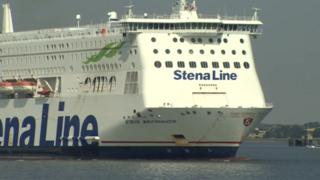 An Iranian man who was refused entry to the UK has been treated in hospital after jumping from a ferry off the coast of Essex.
The man, in his 20s or 30s, was pulled from the water near Harwich by a passing fishing boat.
The Home Office said he was returning to the Hook of Holland after he was refused entry, having arrived on an earlier boat.
It said his case would be dealt with according to immigration rules.
Harwich Lifeboat Station's inshore lifeboat brought the man ashore, where Border Force officials were waiting.
He was then taken to Colchester Hospital for a check up having suffered a minor injury.
A Home Office spokeswoman said: "Following a rescue operation by the RNLI on 4 July, the immigration case of an Iranian man was referred to the Home Office."
Four years ago, an inquest heard two Albanian men died after jumping off the same vessel near Harwich, hours after trying to enter the UK in a lorry.
David Thurston, Harwich Lifeboat operations manager, said the Iranian man was fortunate.
"It was a very calm day," he said. "The sea was smooth, and we have had an extensive period of warm weather [so] the surface sea temperature is in places up to 18C (64F)."