Canvey Island fire: Security guard describes 'massive explosion' and fire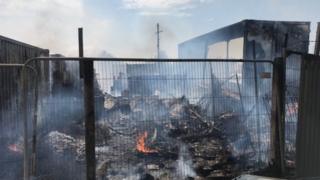 A security guard has described the "massive explosion" before a major fire ripped through an industrial area.
The blaze at an industrial unit and nearby field on Northwick Road, Canvey Island, Essex, started at about 14:00 BST on Tuesday.
At its height 12 fire crews were fighting the blaze, which was put out on Tuesday night.
The guard, who did not want to be named, was working at the site when the fire broke out.
He told the BBC: "I was sitting in a container where I am a security guard when I heard this massive explosion.
"I first thought that the container had been hit by another container, but when I got outside there were flames, 15ft high, bellowing overhead.
"I alerted other people and got a couple of dogs out."
Essex Fire and Rescue Service said it was investigating the cause of the fire, which claimed the life of one dog. No other casualties have been reported.
A fire service spokesman said: "The fire affected all five containers, several piles of scrap metal around the yard, a lorry trailer and a field the size of two football pitches.
"Firefighters managed to successfully stop the fire from spreading to a neighbouring large metal warehouse which contained a lorry and a number of other vehicles.
"An investigation into the cause of the fire will take place in due course."
The fire saw a nearby Morrisons supermarket and a McDonald's restaurant evacuated.