Subway sandwich-bribe claims at Thrive Academy 'stupid'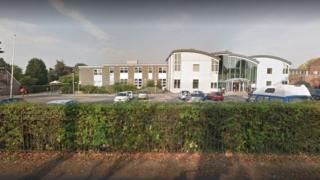 Claims a school bribed or removed some pupils during inspections are "stupid," a former director has said.
David Tornay was chair of trustees at the Thrive Partnership Academy Trust, which runs Philip Morant in Colchester and The Colne in Brightlingsea.
Two head teachers were suspended in March, but no reason has been given.
Parents claimed bullying at the schools was not dealt with and "naughty" pupils were offered sandwiches to behave around Ofsted inspectors at Colne.
One said: "My daughter has told me, when Ofsted come in, children perceived to be naughty or with special educational needs are taken to the top of the field and bribed, and this year's bribe was a Subway [sandwich]."
Another said: "My son was picked on, punched, kicked, had his bag taken and was verbally abused all day.
"As he left the school he was pushed in front of a car and when I phoned the school they said they couldn't deal with it because it didn't happen on their grounds."
Thrive said Mr Tornay had been on site on the day of the inspection at Colne in January.
Mr Tornay described claims of bullying as "horrendous".
"I certainly don't think there's a major issue with it, but I've got no doubt the current board and leadership team are dealing with that now," he said.
He also dismissed the bribery claims.
He said: "Were there children on a different part of the site? Yes, but that was planned and had nothing to do with the Ofsted inspection, so that's stupid, really."
A new Ofsted report on the schools is expected to be published within the next fortnight.
Earlier his month, Thrive announced it intended to dissolve itself as an organisation, but could not say what its plans to offload its schools meant for the suspended staff.
The regional schools commissioner is looking for a new trust to run the schools.