Thames Crossing: Homeowners 'devastated' at compensation offer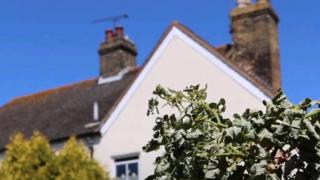 People facing the loss off their homes to make way for a new Thames tunnel have demanded "fair" compensation.
The £6bn Lower Thames project will link the M25, near North Ockendon, Essex, with the A2 near Shorne in Kent.
Residents of Thurrock in Essex, have accused Highways England (HE) of offering them money that falls short of their estimates, by £1m in one case.
HE said an independent surveyor would value properties and negotiations would continue.
One couple, Ian Melville and Mandy Blundell, said they had been put through "absolute hell" for the past 14 months.
They have lived at their 200-year-old property in Orsett for 27 years and said they have been offered less than £600,000 by HE, despite their land and home being valued at £1.535m by their own surveyor.
Neighbour Bobby Lockwood said: "According to their rules, you should not be any worse off, but obviously we're going to be.
"But they're picking sums out of the air."
Three couples have hired a law firm and have said they are willing to go to court to seek better deals.
Fellow villagers Alan and Linda Rouse had their home valued at £750,000 but have been offered £675,000, while Bobby and Angie Lockwood said their property is worth £1.15m but HE has offered £1m.
Mr Rouse said: "It's devastated the whole family. We just don't know where we're going."
A Highways England spokesman said: "If the value proposed by the independent valuer differs from that of the owner's assessment, we aim to reach a fair and satisfactory agreement.
"We work with them throughout the process openly and transparently in line with legislative guidelines for dealing with matters of compensation, known as the compensation code."
The transport secretary said the new crossing - which is due to open in 2027 - would ease pressure on the busy Dartford Crossing.