Real-life 'Chicken Run' for stowaway hen using lorry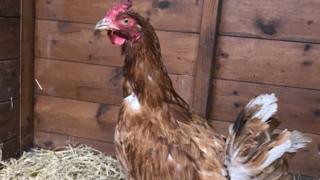 A stowaway hen found itself on a real-life Chicken Run when it hitched a ride out of its farm on a supermarket lorry.
The hen, nicknamed Ginger after the film's heroine, surprised workers at a Sainsbury's distribution centre in Waltham Abbey, Essex, when she jumped down from the lorry when it arrived.
It is believed she spent the entire journey in the open space between the lorry's cab and trailer.
A Sainsbury's spokesperson said she took "free-range to a whole new level".
'Accidentally escaped'
RSPCA officer Joe White said it was "quite amazing she managed to stay put for the duration of the journey".
He believed that Ginger must have "accidentally escaped" from one of the various farms the lorry had stopped at while transporting eggs from farms to the warehouse on Wednesday.
Mr White added: "The staff did a great job by confining the chicken to the safety of a box so that when I arrived I could quickly transport her.
"Without their quick-thinking, who knows what might have happened to her."
It is not known which farm Ginger came from and she has now been taken to a wildlife centre where she will spend her days with a resident flock.