Hundreds wait hours in Stansted Airport baggage 'chaos'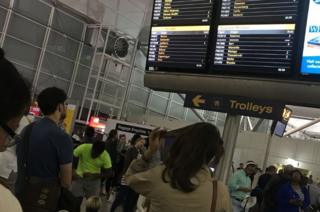 Hundreds of passengers had to wait up to four hours to reclaim their luggage after most baggage handlers at Stansted Airport had gone home.
Cargo handlers Swissport said "seven times the number of anticipated flights arrived after 01:00 BST on Monday".
Many were delayed when air traffic control restrictions were put in place because of storms across Europe.
Passengers described the baggage situation as "chaos". The company has apologised for the delays.
David Pengelly, from Sudbury, Suffolk, arrived on a delayed flight from Crete at about 02:45, and was faced with an hour-long wait in passport control.
"There must have been about a thousand people there, some queuing on the stairs.
"We thought after all that we could just walk out and the bags would be there, but no," he said.
'A shambles'
"Baggage was another story altogether - it was chaos and I was told there were only three handlers on duty but there were no Swissport staff to be seen."
He eventually left the airport with his luggage at about 06:30.
Others waited a similar length of time, describing the situation in baggage reclaim as "shocking", "disgusting" and "a shambles".
There were reports of passengers sleeping on the airport floor and in the toilets.
One woman wrote on social media she got so fed up by 03:30 she left without her luggage.
You may also be interested in:
Lightning strike causes Stansted disruption
Stansted Airport collision delays passengers
Stansted fire forces cancellation of flights
Ryanair, with whom many of those affected were flying, said it had "asked our handling agent at Stansted (Swissport) to take necessary steps to ensure these delays to do not recur".
Swissport has apologised to passengers for what it admitted were "significant delays".
A spokesman said "air traffic control restrictions due to thunderstorms over European airspace... forced a high number of flights at Stansted to land outside of the scheduled operating hours".
Stansted Airport said its terminal staff "volunteered to assist" with the baggage backlog and it would be "working closely with our airline and handling agent partners to find a solution".