Blue tit family make nest in Copford pub cigarette bin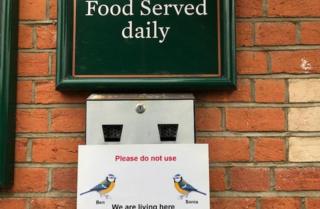 A family of blue tits have been wetting their beak at an Essex pub after they made its cigarette box their home.
The two adults and four chicks have taken up residence at The Alma pub in Copford for the past month.
The pub put up a sign asking customers not to disturb the makeshift nest, and the birds remain there for feeding.
Derek Miller, from the pub, said regulars "find it quite funny that we've got some extra guests", and are respecting the birds.
An RSPB spokesman said: "It may look like an odd place to set up a home, but there's probably a quite a bit of room in there to build a nice warm nest."
Mr Miller said the nest was discovered when customers spotted one of the birds nipping in and out of the bin prompting someone to look inside, where they found the four young chicks.
The adult birds have been nicknamed Ben and Sonia, the latter of which has been doing the majority of the feeding according to Mr Miller.
"[Sonia] perches on one of the hanging baskets above the nest, then has a look around to make sure it's safe to go in before feeding the chicks and then popping out again looking for more food," he said.
You may also like:
The RSPB said that birds using a cigarette bin for a nest was "rare", but that a similar situation had arisen a few years ago at a pub in Norfolk.
A spokesman said: "Birds make their nests in all sorts of strange places. If it's a safe, secure and comfortable spot to lay eggs and raise chicks don't be surprised to find a nest.
"We have seen it all - pigeons behind satellite dishes, robins in tool boxes and blue tits in a life jacket. But this one must be of the most unusual ones I've seen this year."