Driver 'accidentally pressed the accelerator' before car park death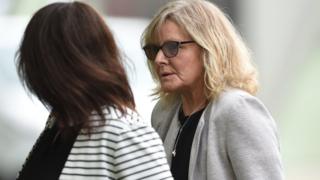 A driver knocked down and killed a 100-year-old woman in a supermarket car park after accidentally pressing the accelerator, a trial has heard.
Cherise Lyons, 57, said she "panicked a bit" before the van "flattened bollards" outside Asda in Shoeburyness, Essex, in November 2016.
Joan Roskilly suffered serious injuries and died on her way to hospital.
Ms Lyons admits causing her death by careless driving but denies causing death by dangerous driving.
Basildon Crown Court was told carer Ms Lyons, of Kingsmill Road, Dagenham, was driving her disabled client Reece Clarke to buy flowers, and "did not feel uncomfortable" in the automatic Renault Trafic.
Wheelchair user Mr Clarke was sitting in the back of the adapted vehicle he owned at the time.
The jury heard Ms Lyons had got out to check the fuel cap before getting back into the driver's side.
"As I turned back the car was rolling," she told the court. "Then I said 'the car's rolling' - and panicked a bit.
"I thought I was on the brake all the time but I obviously wasn't," she said. "I just wanted to stop the car."
Ms Lyons said the van had gone through bollards but she steered it to avoid hitting the store.
Prosecutor Patrick Dennis said a police crash investigator concluded that when Ms Lyons got out of the vehicle "she must have left the engine running with the vehicle in gear".
"She's accidentally pressed the accelerator and that's overridden the handbrake and caused the vehicle to move forward and the bollards to be flattened," he said.
Mrs Roskilly, who was shopping with a friend, died while on her way to hospital after suffering leg and pelvis injuries.
The trial continues.