Sacked Essex chief fire officer's '£280,000' settlement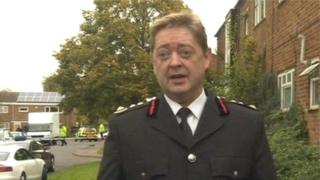 A chief fire officer, who was sacked, received a settlement of £280,000 from the public purse, the BBC understands.
David Johnson was suspended for unknown reasons from the Essex Fire & Rescue Service in April 2015 and dismissed in April 2017.
A legal case related to the dismissal has cost about £1m.
Mr Johnson, who has always denied any wrong-doing, was suspended on full pay for two years.
A settlement with him was confirmed earlier this year following mediation at an employment tribunal.
The pay-out figure has now been revealed in the the fire service's annual accounts for 2017-18.
'Transparent'
Although he is not mentioned by name, the BBC understands the figure of £280,000 in the table titled Exit Packages refers to Mr Johnson.
Before his sacking, he was facing 11 allegations of misconduct, one of which was dropped.
An independent report by a leading barrister found there was no evidence to support the claims.
The Fire Brigades Union was critical of the decision to sack Mr Johnson.
Roger Hirst, the Police, Fire and Crime Commissioner for Essex, said the fire service had tried to be "transparent".
"However, it is also important the Service continues to honour its obligations under data protection regulation to those involved, so where an individual does not consent to have their personal financial information disclosed this must be respected," he said.
"Since taking on governance of the fire service [in addition to the police force] in October we have worked hard to resolve a number of cases which had been going on for too long.
"It is positive that all of these have now been concluded, recognising we have had to seek mediation, in a way that all parties can accept and the service and those individuals can now move on."
The accounts show Mr Johnson's basic salary for 2016-17 was £154,159, with an added £28,000 for special allowances.