Late night beach visit lands driver in cold water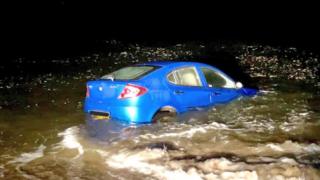 A hapless driver's late-night visit to a secluded beach with his partner landed him in cold water when his car got stuck amid a rising tide.
The man had driven off a slipway in Shoeburyness, Southend on Thursday.
His rescue service said it could not help and by the time Essex Police arrived the car was engulfed by waves.
Officers had to haul it out of the water, fearing it would be washed out to sea. No-one was injured and the man was left to arrange the car's recovery.
Sgt Colin Shead and PC Dave Jackson, from Essex Police's road policing unit, were called at about 00:45 on Friday, as the desperate driver could find no-one else to save his car.
"The man had attempted to do a three-point turn to leave the beach, but instead got well and truly stuck in the sand, and the tide was coming in," Sgt Shead said.
"It took us more than 30 minutes to drive in two 4x4s from Colchester to Southend, by which time it was in deep water.
"The tide was lifting the car up and we were worried it would be taken out to sea, which would have caused even more problems."
He and his colleague "strapped it up to our 4x4s and dragged it out", he said.
The man had only had the car for two weeks, Sgt Shead added.