Harlow 104-year-old's distant relatives attend funeral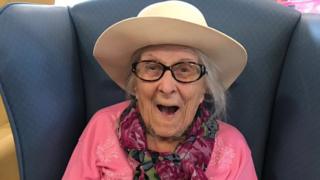 Several relatives of a 104-year-old woman, who had no known family, attended her funeral after they were traced, and made it a day of memories.
Daisy Staines died on 25 April and her care home in Harlow had no knowledge of any relatives.
Finders International located her first cousin, once removed, Valerie Herrtage, 70, from Chingford and some of her family came to the funeral with her.
She said she was "amazed" so many people, including carers, came.
Finders International managed to track down two first cousins, once removed, but the other one could not attend.
Ms Herrtage is the grand-daughter of Ms Staines' sister Bethia Rosina Maud. Although she heard her mother talk about Daisy, she never met her, but said it was a lovely positive event and a nice morning.
She said: "I brought a couple of photographs and one of them was matched with a picture of my mother with Daisy who was her cousin.
"I was pleased to know they did things together as cousins."
Ms Staines' husband Fred died in 1980, the couple had no children and she had survived all her siblings.
Clare O'Neill, manager of the Ashlyn Care Home where Daisy had lived for eight years, said about 40 people attended the funeral at Harlow's Parndon Wood Crematorium and she said "it was a lovely day".
Mourners came back to the home afterwards and the photographs Daisy left sparked memories for them, Ms O'Neill said.
"Daisy loved cats and one of the many floral tributes showed this. The service included hymns like All Things Bright and Beautiful," she said.
"To remember Daisy was a ballroom dancer we included Serenade In Blue and In The Mood by Glen Miller as well as The Last Waltz.
"So many people responded to our appeal and we cannot thank the media enough for their help."