Chimney sweep called to help flush kittens through Essex drain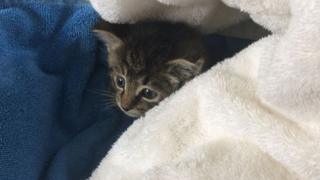 A chimney sweep had to be called in to help rescue two kittens that had fallen into a deep sewage drain.
Their cries were heard from the 6ft-deep (1.8m), 18ft-long (5.5m) underground pipes in Grays, Essex.
With only a 4in (10cm) gap to get to them, the RSPCA called in the fire service, then a chimney sweep who had poles long enough for the rescue.
After three hours, they eventually had to "gently flush" the unharmed kittens out of the drain using water.
"It certainly was one of my more unusual days at work," said chimney sweep David O'Donnell, from Essex and Suffolk Sweeps.
He was on his way to a more conventional job last Friday when he was told his lengthy poles were needed, and said he was "happy to help".
The RSPCA is now looking after the four-week-old kittens, which are believed to be strays.
They will be rehomed when they are older.