Police contacted over 'vicious' Brightlingsea school row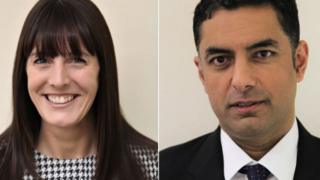 Police have been contacted in connection with a string of allegations made amid a "vicious campaign online" surrounding a school, it has emerged.
The BBC understands the allegations were made by parents about the Colne Community School in Essex.
The Colne, in Brightlingsea, is part of the Thrive Partnership, whose executive heads Nardeep Sharma and Catherine Hutley are currently suspended.
The partnership said it always aimed to engage with parents over issues raised.
Documents obtained by the BBC under the Freedom of Information Act show Daniel Fox, the associate head of school, briefed the governing body in February about the situation involving the school and parents.
According to the minutes of that meeting he told governors "there had been a vicious campaign online from parents regarding their perceptions".
The minutes said: "Many of the difficult parents had now been invited in for a meeting. The police had been involved regarding some unpleasant allegations made."
The exact nature of the allegations made have not been confirmed.
At the same meeting, it emerged the school had seen an increase in student exclusions, a "rise in extreme behaviour", a "perception that the school had a bullying problem" and that while students were "aware of how to report bullying, many did not engage because they felt that no action was taken".
During a previous meeting in October, the school's governing body was told there "was a belief in Brightlingsea that bullying was rife at the Colne" but that "much of this was unkind behaviour rather than bullying".
Essex MPs Will Quince and Bernard Jenkin had written to Education Secretary Damian Hinds, claiming "parents are losing faith in the leadership of the schools".
A school spokesman said: "We constantly strive to engage with our parents over issues they raise.
"Unfortunately, there are some occasions when issues raised are not always resolved to parental satisfaction.
"Due to the nature of the comments that were appearing online, the school sought advice from the police."
The BBC has approached Essex Police for further details.