Kevin Malthouse death: Murder accused 'received death threats'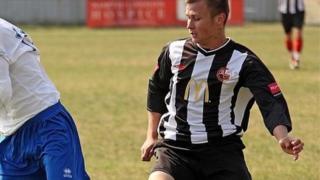 A man accused of killing an ex-footballer carried a "commando kit" of knives because a rival group had threatened to kill him and rape his girlfriend and mother, a court heard.
Kevin Malthouse, 24, played for Tilbury FC and died in Grays, Essex, on 1 July after a fight between two groups.
Jack Taylor, 19, of Oakley Close, Grays, is alleged to have attacked Mr Malthouse and three others but said he never "intended to hurt anyone".
He and another man deny murder.
Chelmsford Crown Court had previously heard the two groups were outside The Treacle Mine pub, when Mr Taylor accused someone from Tilbury of having a "beef" with people from Grays.
Giving evidence, he told the jury he "felt pressured" into slashing one of the Tilbury group's tyres.
Mr Taylor told the court he then went home to get changed before taking a bag from his bedroom containing "three knives, a machete, meat cleaver and an axe".
When asked why he picked it up, he said: "I knew what these people were capable of and I was frightened. They had already threatened to kill me.
"They would be angry about their tyres and they threatened to rape my girlfriend and my mother."
Mr Taylor was being driven by his co-accused Dusan Samardzija, 23, and the groups met in Blackshot Lane at about 00:30 BST.
At least three men got out of the car belonging to the Tilbury group and one of them smashed Mr Samardzija's wing mirror with a golf club, the court heard.
The jury were told a melee then followed in which Mr Taylor killed Mr Malthouse "instantly" with a blow which punctured his heart and seriously injured three others.
Giving evidence, Mr Taylor said: "I never intended to hurt anyone. My idea was to pull one [weapon] out just to scare and threaten them"
Mr Taylor and Mr Samardzija, of Cypress Path, Romford, deny murder and three counts of grievous bodily harm.
The trial continues.