Southend street 'disturbance' sees man stabbed to death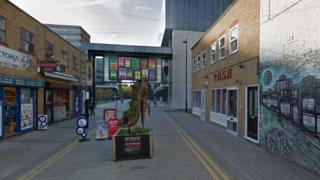 A man has been stabbed to death in what police are calling a "disturbance" in a street in Southend.
He died shortly after paramedics arrived on Farringdon Service Road, near the Central Library and university campus, on Monday evening.
Essex Police said witnesses had reported seeing up to four men involved in the attack at about 21:00 BST.
Officers are treating it as a murder inquiry and the road was closed so forensic work could be carried out.
They are appealing for information and dashcam footage.
Police have yet to release details about the victim.