East of England Ambulance Service: £26.5m for ambulances and staff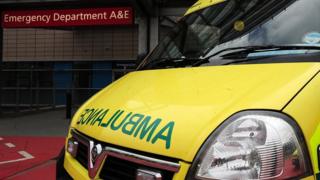 An ambulance service hit by concerns over waiting times is recruiting an extra 330 staff and buying 160 new ambulances.
The East of England Ambulance Service (EEAS) is set to receive an extra £26.5m in funding from 19 clinical commissioning groups, over three years.
The service currently has about 4,000 members of staff and 324 ambulances.
Robert Morton, EEAS chief executive, said the funding was an "excellent step forward".
EEAS, which covers Bedfordshire, Cambridgeshire, Essex, Hertfordshire, Norfolk and Suffolk, started an inquiry in January after claims made in the House of Commons that a number of people had died after long waits for ambulances.
In March it started a separate inquiry into the death of a man 48 hours after he dialled 999, asking for an ambulance because he felt unwell.
Jonathan Dear, 46, from Southend-on-Sea, told emergency control room staff he was "weak and about to collapse", but no ambulance was sent. He was found by a family member 48 hours later.
EEAS said the 999 call had been categorised as non-emergency.
Reacting to the funding, Mr Morton said: "This is an excellent step forward as we aim to ease the strain on our existing staff who work incredibly hard for patients.
"That strain has been evident particularly over the last few months, during the increased demand which winter pressures always brings to the NHS.
"Extra funding will mean the ambulance service can expand to meet the rising demand."
He later told the BBC that he was confident a report he expects to receive next week will show that "no patient died as a result of delayed ambulance response".
It has been announced funding will rise from £213.5m in 2017-18 to £225m in 2018-19, and to £240m in 2019-2020.
Ed Garratt, chief officer for Ipswich and East Suffolk Clinical Commissioning Group (CCG), which is lead commissioner for the CCGs which pay for EEAS services, said: "Commissioners have committed significant additional investment over the next two years to increase both staffing and ambulance vehicle levels."