Pitsea flare-throwing killers' sentences cut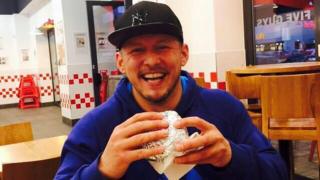 Two teenagers jailed over the death of a man killed when a marine distress flare was thrown into his car have had their sentences cut on appeal.
The body of Vilson Meshi, 30, was found in a burnt-out Audi A4 in Pitsea, Essex, on 27 February 2016.
Keani Hobbs, 19, and a 17-year-old boy were jailed in August after being convicted of manslaughter.
Hobbs' nine-year term was reduced to five years and the younger teenager's cut from six to three-and-a-half years.
Upholding their appeals at the Court of Appeal, Lord Chief Justice Lord Burnett said they wanted to "wake" Mr Meshi, who was asleep in his car, to see him "cough and splutter" and had not foreseen the consequences.
Mr Meshi had driven to Pincey Mead from his home in Glossop, Derbyshire, on 26 February in order to see his children from a previous relationship and planned to sleep in his car overnight.
The younger male, who cannot be named, had earlier taken Mr Meshi's phone and car keys from his vehicle before returning later with Hobbs. As Mr Meshi slept Hobbs threw the flare into the car.
A post-mortem examination found he died from breathing in fumes.
Lord Burnett said: "They must have appreciated that Mr Meshi would cough and splutter, a moment's thought would have led anyone to conclude that some injury might be suffered from inhaling smoke and fumes and also that in scrambling from the car its occupant might hurt himself.
"But in terms of culpability the circumstances fall at a relatively low level."
Both defendants were also convicted of theft and their sentences for that offence are to run concurrently.