Lotto scratch card millionaires reveal 'champagne' lawn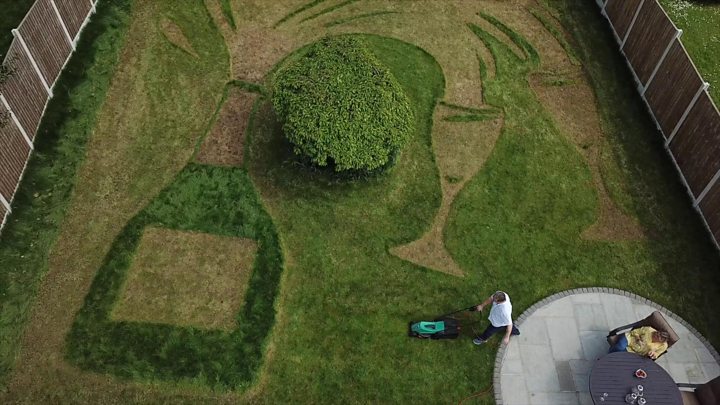 An Essex couple are marking their lottery win two years on with a celebratory design in their back garden.
Care worker Susan Richards, 51, from Billericay won £3m on a £10 scratch card she bought in 2016.
She and her partner of 12 years, Barry Maddox, spent some of the money etching the champagne moment into their lawn.
The elaborate image took three days to complete.
Ms Richards enlisted a professional gardening firm to create the artwork, depicting bubbly bursting from a champagne bottle into two flutes.
"It's bigger than what I expected but it's amazing," said Ms Richards. "It's come out really nice."
She said she mentioned it to neighbours before work started and they were "intrigued", but she had yet to ask them what they thought of the finished lawn art.
'Lawn-Moeting'
Ms Richards bought her winning scratch card from a local supermarket on the way home from a night shift as a care worker, and spent £750,000 of it on a dream Essex home.
They also splashed out on four new cars, a motor home and holidays abroad.
Ms Richards, who has two children, and Mr Maddox, who has three, said they had also used money to help family members.
"The neighbours must think we are mad but I've always taken a lot of pride in my garden and this has been really fun to do too.
"Who knows, maybe we've created a trend for the summer, lawn-Moeting."