Appeal launched to identify mystery Essex suffragette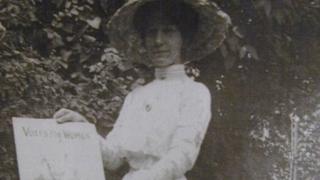 Researchers challenging the Essex Girl stereotype are appealing for help in identifying a mystery suffragette from an old photograph.
The image, dating from the period of the First World War, depicts the woman holding a Votes for Women poster.
The team also wants to track down anyone who can identify the faces in an early mother and baby clinic, captured in Southend at around the same time.
Iona Farrell of Southend Museum described the images as "timeless".
The appeal is part of a two-year campaign by Essex County Council called Snapping the Stiletto, uncovering stories of strong Essex women from the last 100 years.
Ms Farrell said the mystery woman is from Southend and may have been an associate of more high-profile suffragettes.
"Her photograph was displayed some years ago in a museum exhibition about suffragettes, but we have no idea who she is," she said.
"Our volunteers have trawled through council minutes and archives to piece the stories together.
"These are real women. The photographs are timeless, they could have been taken today."
The quest coincides with the centenary of the Representation of the People Act 1918, which gave the first British women the vote.
The clinic has been identified as the former Westcliff Institute, now the Trinity Family Centre, in Southend.
It was founded in 1915 by Adelaide Hawken, one of the first women in Essex to improve the welfare of young mothers.
The Snapping the Stiletto campaign is working with 12 museums to "explore their collections and discover hidden inspirational stories".
Amy Cotterill, of Essex County Council, said: "The project aims to replace the outdated stereotype of 'Essex Girls' with stories of strong Essex women.
"This clinic was the Sure Start of its day and the first one in Southend.
"There are so many inspiring women whose stories deserve to be told."