Bouncy Castle trial: Fairground worker 'froze' as inflatable blew away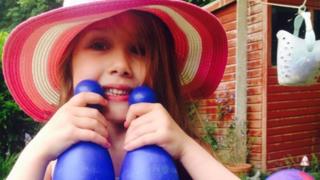 A fairground worker felt "a sense of disbelief" when a bouncy castle blew away with a young girl still inside, a court has heard.
Summer Grant died in hospital after she was rescued from the inflatable at a fair in Harlow, Essex, in March 2016.
William Thurston told Chelmsford Crown Court he momentarily "froze" before chasing the bouncy castle as it went "tumbling" down a hill.
Mr Thurston and his wife Shelby, 26, deny manslaughter by gross negligence.
They also deny a health and safety offence.
Mr Thurston, 29, told the court how he unzipped an emergency exit on the inflatable, carried Summer out and placed her in the recovery position, describing it as "the worst thing I'd ever seen".
The jury heard the bouncy castle had lifted "suddenly" and Mr Thurston felt "a sense of disbelief" and "froze for a second" before giving chase.
Charles Bott QC, for the defence, asked his client: "Do you regard yourself as in any way to blame for the death of Summer Grant?"
Mr Thurston replied: "I do feel a sense of responsibility, yes. The simple fact is we could have taken the bouncy castle down sooner. Obviously, now I wish we had."
He said he was aware that Storm Katie was due to arrive two days later, but believed it was "not hugely significant".
"I thought it was two days away, and the weather can change a lot in two days," he told the jury.
He said he had "no scientific way" of gauging wind speeds, and nobody had suggested to him before the incident that it would be useful to buy an anemometer - an instrument used to measure wind speed.
Prosecutors say the Thurstons, of Whitecross Road, Wilburton, Cambridgeshire, failed to ensure the bouncy castle was "adequately anchored" to the ground and failed to monitor weather conditions to ensure it was safe to use.
Summer, from Norwich, who died of "multiple traumatic injuries to the head, neck and chest", was at the fair with her father Lee Grant and other family members.
The trial continues.