Bouncy castle trial: 'I beat myself up' over death, funfair operator tells jury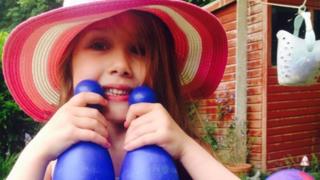 A funfair operator said she "beats herself up" for not foreseeing winds which blew a bouncy castle away, killing a girl.
Summer Grant, 7, from Norwich, died after the incident in Harlow, Essex.
Shelby Thurston, 26, told Chelmsford Crown Court she had discussed the windy conditions that day but saw "no sign" the inflatable was becoming unsafe.
She and her husband, William Thurston, 29, deny a health and safety offence and manslaughter by gross negligence.
Giving evidence at their trial, she said: "Not a day goes by that I don't beat myself up for not knowing the gust of wind was coming."
"I assessed my surroundings and it showed no sign it was in immediate danger - at the time there was no gusting wind," she added.
Asked by prosecutor Tracy Ayling why she did not notice the bouncy castle was coming loose from its anchoring, she said the incident "happened in seconds".
Mrs Thurston described how she tried to grab hold of the bouncy castle as it blew it away and how her husband had put the girl into the recovery position.
She told the court: "There's no denying that this gust of wind that came could have been in excess of 40mph.
"It wasn't a small gust of wind. It was a very big gust of wind and nobody in Harlow that day expected that gust of wind to come."
The court heard Summer only had "a few minutes" left of her turn on the bouncy castle, but Mrs Thurston said she decided to "let them finish their go" before taking the inflatable down.
Prosecutors said Mrs Thurston and her husband, of Whitecross Road, Wilburton, Cambridgeshire, failed to "adequately anchor" the bouncy castle.
In a statement, witness Kyle Ramm described seeing the bouncy castle tumble down the hill before hitting a fence and a tree "with some force as it snapped a branch".
Summer, who died of "multiple traumatic injuries to the head, neck and chest", had been visiting the event at Harlow Town Park with her father Lee and other relatives.
The trial continues.