Essex fire chief dismissal legal bill hits £740k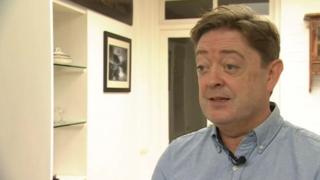 A dispute that led to a chief fire officer's dismissal has cost more than £700,000 in legal fees, it has emerged.
David Johnson was suspended for unknown reasons as Essex's chief fire officer in April 2015 and sacked in April 2017.
The Fire Brigades' Union (FBU) claims the costs were avoidable and Mr Johnson should not have been dismissed.
A source close to Mr Johnson said the situation was a "debacle" while the fire service said it had "taken too long and cost too much money".
The total legal case bill for Mr Johnson's case currently stands at £741,219 - five times the salary paid to Mr Johnson's successor Jo Turton.
What the legal bill includes:
£397,000 spent with Essex Legal Services
£141,000 in barrister fees
£90,000 on a report by a QC
£4,000 on expert witnesses
£85,000 to cover Mr Johnson's own legal fees
The fire service, in its response to a BBC request for information, confirmed a separate financial settlement to Mr Johnson "will be paid using public funds".
The sum involved in the settlement has not been disclosed by either the fire service or the Police, Fire and Crime Commissioner for Essex, Roger Hirst.
However, it is understood details of all exit packages and settlements will be published in the service's 2017-18 annual accounts later this year.
It is also understood the fire service will be discussing the implications of publishing such payouts - including that agreed with Mr Johnson - with its auditors.
In January 2017, the BBC revealed how a confidential Essex Fire Authority report showed Mr Johnson had faced 10 allegations but found no evidence of "misconduct or gross misconduct".
No reason has ever been given for Mr Johnson's sacking, but the fire service has previously said his dismissal "followed a robust process in compliance with the law in relation to statutory officers".
A source close to Mr Johnson said the legal costs did not include a claimed £800,000 in salary and pension payments while Mr Johnson was away from work or the costs involved in interim arrangements, work by HR and ancillary services.
The source said: "In total, this has probably cost taxpayers about £2m and for what? This debacle is still going on now [it is understood further legal proceedings might follow relating to pension arrangements]."
'Fraction of the cost'
Alan Chin-Shaw, secretary of the Essex branch of the FBU, said: "They didn't need to sack him.
"They had a £90,000 report by a barrister which said there was no case to answer in nine out of 10 allegations and the 10th does not constitute gross misconduct - so why did we have to go through all the rest of it?
"Surely an internal investigation could have been done at a fraction of the cost.
"They chose to go to a top barrister and they got a result they did not like they carried on anyway.
"Mr Johnson should have been able to carry on, return to work with the support needed, and we would have had none of this."
Jane Gardner, deputy Police, Fire and Crime Commissioner for Essex, said: "This case has taken too long and cost too much money.
"Since taking on governance of the fire service in October we have worked hard to resolve this issue and we are pleased that we have been able to reach a conclusion to this case, recognising that it has taken judicial mediation, and that there is now a way forward for Mr Johnson that both parties can accept."