Bradwell-on-Sea marina-blocking 'mud wall' being removed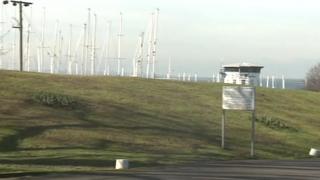 A 100m-long "mud wall", criticised by residents for depriving them of a marina view, is being pulled down after a council won a planning appeal.
Maldon District Council has battled Port Flair Ltd since February 2017 when it built the bank at Bradwell in Essex.
The authority started planning enforcement action after 30 local residents complained, but this was appealed by Port Flair.
The Planning Inspectorate has now backed the council.
Paul Dodson, the council's director of planning, said the authority was pleased that work was being undertaken "so promptly" to remove the "unauthorised earth embankment".
A spokeswoman for Port Flair, which runs Bradwell Marina, said the firm had no comment to make.