Epping 'monster' 2014 rapist 'smelt of cat urine'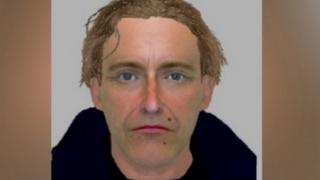 A man who smelt strongly of cat urine "tricked" a teenage girl with a story about a lost dog and raped her near a common in Essex, police have said.
In a renewed appeal about an attack in Epping in September 2014, Essex Police said they believe the suspect may have been passing through the county.
They believe it was not the first time he had used such a tactic.
The victim's family said: "We'll do whatever it takes to stop this monster from doing this or worse ever again."
The girl was walking near Thornwood Common at 17:30 BST on 11 September when she was asked by a man to help him find his dog.
While walking with the suspect, the victim was led to a secluded spot and raped.
The rape was disclosed to officers in September 2016, and an investigation began.
Officers believe the suspect was not local because no-one from Essex has come forward with information, despite such a detailed description of his appearance.
The victim described the man who raped her as having slicked back brown, greying hair which was almost styled in a comb over.
His nose had a bump on it, and he had thin lips, with a mole either side.
He was wearing a navy or black padded winter jacket. His victim also thought he had a local English accent and that he smelt strongly of cat urine.
Det Insp Mark Barber said: "This is likely to have been an opportunistic attack. Nonetheless, it has the hallmarks of an individual who had given thought to how he could trick a victim of such a young age, and it may not have been the first time he had employed this tactic."